Newly established Malaysia base VR factory inspection by telework through business alliance between TK International and NEWJI
~Increase business expansion with NEWJI VR~
TK International Sdn Bhd (hereafter, TK International), is a comprehensive IT service provider based in the suburbs of Kuala Lumpur, the capital of Malaysia, and NEWJI Co., Ltd. (Headquarters: Shinjuku-ku, Tokyo, Representative Director: Takashi Ikuta hereafter "NEWJI"), which develops Internet services for the manufacturing industry announced a business alliance as a partner on January 30, 2021. TK International announces that they will start selling this product in Malaysia from March 1, 2021 in response to the LITE plan of the online VR factory inspection "NEWJI VR" (
https://www.newjivr.com/
) operated by NEWJI.
Highly effective during the state of emergency due to the third wave of coronavirus
As the infection of the new coronavirus continues to spread, there is an urgent need to introduce infection prevention measures at manufacturing sites. There are increase tendency for efforts such as working from home and remote monitoring using ICT (Information and Communication Technology).
For manufacturing industry, which has a production base in Malaysia, it is inevitable to continue producing, procuring, and purchasing products while implementing infection prevention measures.
Until now, we often travelled to do physical check on products with our own eyes, both in Japan and overseas, conducted quality audits, process confirmations, and pre-shipment inspections. However, due to restrictions on overseas travel, it is difficult to check the production line of the product with our own eyes. Each company is using various tools to search for the best alternatives for site visits, but at the same time, they are facing major telework issues such as poor image quality and the inability to find the part they want to check.
NEWJI VR uses 360-degree, close-up mode to make you feel as if you are in the field.
360-degree mode gives you an omnidirectional view of the entire factory. By installing the VR HMD, you can feel as if you are in the field, and you can check the real-time image 360 degrees with your own eyes. In addition, in the close-up mode, you can check the clear image quality in real time, for small scratches and dust on the product, which you often check when you go on a business trip. Now you also can perform online remote audits without visiting the site.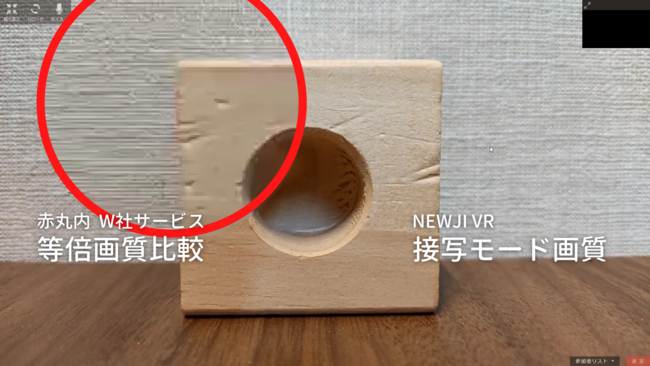 * In the red circle, it shows the image quality of services equivalent to those of other companies. (Scratches look hazy.) While in NEWJI VR close-up mode, the image quality is clear and even the grain of wood is clearly visible.
What is NEWJI VR?
While the number of online and remote work tools in the manufacturing industry is increasing, NEWJI VR is the Japan's largest number of users for factory inspection services in Japan. With the acquisition of a license, the target area can be inspected by factories around the world. The single-use LITE plan is also available in Japan, China, Taiwan, and Malaysia, and the area is expanding at any time. The cost reduction effect is also enormous.
You can inspect the production line of your own products produced at the factory in Malaysia
With the establishment of a new Malaysia base, Malaysia has been added to the countries that can be used in the LITE plan.
Even during the preliminary questionnaire, usually the needs for visiting the Malaysian factory are extremely high, the business alliance with TK International has made it possible to use it in the LITE plan.
Malaysia LITE plan sales start date
Monday, March 1, 2021
Let's experience it first, notice of online demo experience
Webinar "Remote factory inspection! You can inspect the factory using VR"
Date: February 19, 2021 (Friday)
 15: 00-16: 00 (Malaysia time)
 16: 00-17: 00 (Japan time)
Application:
https://connection.com.my/bizevent-0219/
TK International Sdn. Bhd. CEO Shingo Abe Comment
While the spread of the new coronavirus infection worldwide restricts entry into Malaysia and movement within Malaysia, many Japanese companies in Malaysia, including the manufacturing industry, cannot accept inspections for business trips and customer development. This will bring bad impact and business opportunities are impaired.
We are confident that the online VR factory inspection "NEW JI VR", which will be launched in Malaysia, will solve such problems that are occurring in the corona disaster and contribute to the success of our customers' businesses.
Company name: NEWJI Co., Ltd. (English notation: NEWJI INC.)
Established: April 1, 2020
Address: 3-2-9 Nishi-Shinjuku, Shinjuku-ku, Tokyo Shinjuku Washington Building Main Building 2F
Representative: Takashi Ikuta, CEO
Web:
https://www.newji.inc
Business: Development and operation of Internet services for the manufacturing industry
Company name: floorvr Co., Ltd. (English notation: floorvr Inc.)
Established: August 26, 2016
Address: 1-12 Kakuda-cho, Kita-ku, Osaka, Hankyu Five Annex Building 2F, GVH # 5
Representative: Representative Director Masashi Miyazaki
Web:
https://www.floorvr.jp/
Business content: VR content production business, 360-degree video business, VR terminal operation system.
■ Inquiries about services
Company name: TK International Sdn.Bhd. (1088406-U)
Founded: April 9, 2014
Address: B-8-02, Capital 2, Oasis Square, No. 2, Jalan PJU 1A / 7A,
Oasis Damansara, 47301 Petaling Jaya, Selangor, Malaysia
Malaysia Representative: Shingo Abe, President and CEO
Web:
https://tk-international.com/ja/
Media:
https://connection.com.my/
Business content: Malaysia-based comprehensive IT service provider
Business consulting
Cloud service sales business
IoT solution business
Digital marketing business
Inside sales business
■Inquiries regarding this matter
-------------------------------------------------
TK International Sdn.Bhd.
Person in charge: Shingo Abe (Supported languages: Japanese / English)
TEL:+60 18-387-5096 (Malaysia)
MAIL:cloud@tk-international.com