TK International Sdn. Bhd. ("TK International"); Japanese-owned IT solutions provider based in Malaysia, and Selangor Human Resource Development Centre ("SHRDC"); Malaysia-based not-for-profit industry-driven training and talent development center, announced a collaboration in effort to spur an aspiration of welcoming more Internet-of-Things ("IoT") technology development projects from Japan-based tech companies to Malaysian
The collaboration was formalized via a Memorandum of Understanding ("MoU"), which was signed by
Mr. Shingo Abe, Managing Director of TK International Sdn. Bhd. and Mr. Tan Beng Teong, the Executive Director of Selangor Human Resource Development Centre on 17th July 2020.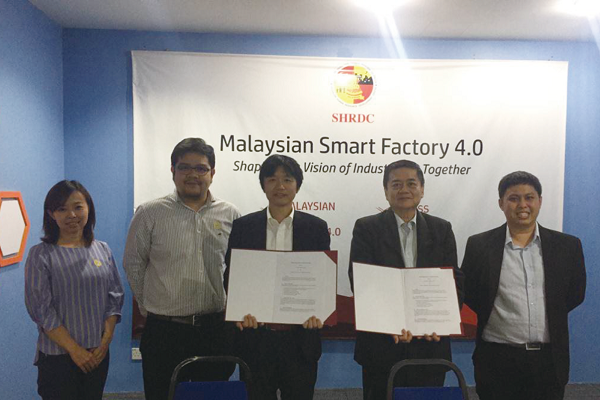 The one-year industry collaboration is designed following SHRDC's Malaysian Smart Factory 4.0 ("MSF4.0") initiative to provide platform for Japanese tech companies or startups focusing in IoT technology showcasing their product that will benefit Malaysian manufacturing industry. The MSF4.0 program; which includes product demo showcase, technology application research and local talent development, will encourage the transformation of Malaysian industry towards Industry Revolution 4.0 ("IR4.0") fortify the technology innovation.
Through this MoU, TK International will act as a bridge to SHRDC and Japanese tech companies or startups with a focus on IoT technology, and provide information on preferential measures for technology introduction and comprehensive support before and after the technology deployment. SHRDC; on the other hand, will facilitate the exposure of the Japan-based tech companies or startups with the local Manufacturing sector in Malaysia via the means of product demo showcase and monthly training program for talent development.
About TK International Sdn. Bhd.
Incorporated in 2014, TK International is an MSC-status Japanese IT consultancy and solution provider based in Malaysia. It primarily focuses on Japan-Malaysia technology bridging activities involving project management, market research, local policy and regulations research and certifications, technology importation and deployment for Proof-of-concept and commercial. The main core technology competencies are in the sector of Internet-of-Things, Cloud Services, Digital Marketing and Business Process Outsourcing. For more information, please visit
https://tk-international.com/
.
About Selangor Human Resource Department Centre
Founded in 1992, SHRDC acts as the bridge between the industry and local authorities; state and federal level, as a not-for-profit platform to provide industry driven training and talent development hub. It currently serves 9 different industries in Malaysia; Smart Factory, Electrical & Electronics, Manufacturing, Microsystems, Solar Energy, Oil & Gas, ICT, Pharmaceutical and Aerospace, through partnership with local and foreign technology providers. SHRDC won the Human Resources Minister "Training Provider of the Year" Award in 2002 and 2009 respectively in recognition of our achievements and position at the forefront of the training industry in Malaysia. For more information, please visit
http://www.shrdc.org.my/
Malaysian Smart Factory 4.0 at SHRDC provides hands-on experience, training, technology and talent development for Industry 4.0 and Smart Factory competencies. This is achieved through three main components:
Operational Technologies (OT)
Cyber-physical distribution system
Smart Factory